27 January: Mozart's bithday
Biography of
Wolfgang Amadeus Mozart

or Mozart and the viola
Buy Viola in Music's Collection of
13 famous tunes
Read more
This biography of Wolfgang Amadeus Mozart, as well as the other ones you'll find on this website, is not meant to be exhaustive (nor exhausting). Instead, it will be focused on one aspect of the composer's life: his attitude toward the viola.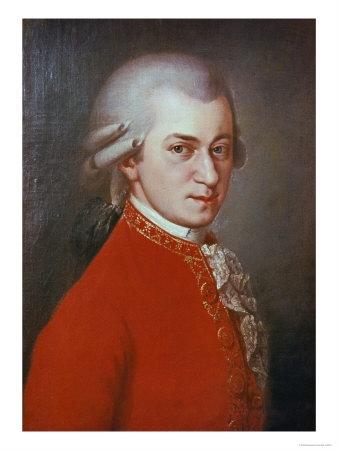 ---
---

Beautiful gifts for musicians and music lovers, some free
---
In 2006 the musical world celebrated Mozart's 250th birthday, he was born on January 27th, 1756. Even Google celebrated with a special logo.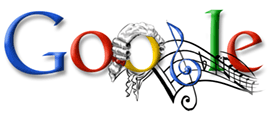 Mozart was the most extraordinary example of a child prodigy and, while it's well known that he played harpsichord and piano, a bit less known is that he played violin, it's nearly totally unknown is that Wolfgang also played the viola! Clever boy!
In the house where he was born, in Salzburg, you can actually see his viola on exhibition.

He was not only a child prodigy but continued to show his genius throughout his life and as a composer, he wrote all genres of music of his time and excelled in all of them.
---
Interesting works for the viola
Knowing and appreciating this wonderful instrument, he wrote some solo and chamber music works for it:
Sinfonia Concertante K364 for violin, viola and orchestra, one of the most beautifully touching and at the same time lively compositions ever (if I had to save one piece of Mozart's music I'd save this one)
Kegelstatt Trio K498 for clarinet, viola and piano,
6 Quintets for two violins, two violas and cello
2 Duos for violin and viola
String trio for violin, viola and cello
Piano quartets and quintet for piano, one/two violins, viola and cello
You'll find more about these works in their own pages.

In many more works Mozart gave the viola an important role, as in quartets and orchestral works.
---
As soon as his dad Leopold realised what an asset Wolfgang was (when he was not yet six!), he started travelling to take him to play in front of princes, kings, the empress and all other most important persons.
Among his numerous journeys to Munich, London, Paris, Milan, Bologna, Rome, just to name a few of his earlier ones, in 1779, at 23, he visited Mannheim, home of a famous orchestra and of the so called "Mannheim school". By the way, among many composers and players, also the Stamitz family (more viola players) used to work there at that time.
Then Wolfgang wrote the Sinfonia Concertante for violin, viola and orchestra. According to some scholars, it is very likely that he also performed it, one of the most beautiful and touching music works ever, playing the viola.

But let's proceed with a bit more order in this biography of Wolfgang Amadeus Mozart.
Mozart's family
Wolfgang was the last of seven children of Leopold and Maria Anna, although only he and his sister Nannerl survived. Their father took care of their education, teaching them not only music but also to read and write, mathematics, languages, literature, dancing, moral and religion. Wolfgang learnt to play harpsichord and later violin and soon started to compose his first works at five.
Here in this website, Leopold should also be remembered because he wrote also (hear, hear!) a concerto for trombone or viola and orchestra. When Leopold recognised a miracle in his son, it became his mission to make him known to all. So with the whole family they started to travel all over Europe to introduce the children to the most influential people.
Mozart family's journeys
Throughout his life, Wolfgang travelled a lot. Mozart's family started to travel in 1762 when they first went to Munich and then to Vienna for three months. There they played for the empress Maria Theresa and ambassadors with great success and were invited to other countries. The following year they started the first tour that would last over three years, so by the time Wolfgang was ten he had already visited Germany, France, the Low Countries, England and Switzerland. All together, from 1763 to 1773 the Mozart family did five tours.

Wolfgang loved travelling, as you can read in his later letters, and all these journeys had an enormous influence on his personal and musical development. They met many other important composers and musicians, such as the violinist Pietro Nardini and, in London, Johann Christian Bach.
In 1770 they travelled to Italy where, among other people, they met Padre Giovanni Battista Martini, of the Accademia Filarmonica in Bologna. Wolfgang became a member after passing a composition exam in a shorter time than most other composers did.
During their stay in Rome, Mozart heard a performance of Allegri's Miserere in St. Peter's church. This work was the exclusive property of the Vatican and nobody could have a written copy of it. According to the story, after listening to it once, Mozart went home and wrote it down from memory.

...to be continued
---
Custom Search
Click the following links to download free MIDI files
download free viola sheet music
---

Mozart of Viola-in-music.com is recommended by the Encyclopaedia Britannica under its External WebSites section.

---
Go from Biography of Wolfgang Amadeus Mozart to Home

---