Biography of Johann Sebastian Bach
or Bach and the viola
Buy Viola in Music's Collection of
13 famous tunes
Read more
In 1802 Johann Forkel, wrote the first comprehensive biography of Johann Sebastian Bach.
It was very important because it was based on first hand accounts of the great composer's life, through the letters that Forkel exchanged with Johann Sebastian Bach's son Carl Philipp Emanuel.
In one of these letters, Carl Philipp Emanuel described his father's activity as a violist and violinist:
"He heard the slightest wrong note even in the largest combination. As the greatest expert and judge of harmony, he liked best to play the viola, with appropriate loudness and softness."
---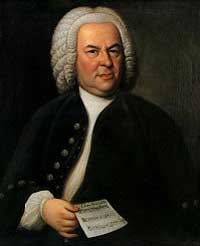 As he was required to do, Bach presented this portrait, as well as the Canon he holds in his hands, when he joined the 
Society of the Musical Sciences in 1747
---
---

Beautiful gifts for musicians and music lovers, some free
---
Although Bach did not write any solo work for viola, he is reported to have enjoyed playing viola.
He understood to perfection the possibilities of all stringed instruments.
Forkel himself, pointed out that in chamber music Bach preferred to play the viola:
"In musical parties... he took pleasure in playing the viola. With this instrument he was, as if were, in the centre of harmony, whence he could best hear and enjoy it on both sides."
Johann Sebastian Bach was the first composer to understand the potential of the instrument tonally and technically.
In his orchestral works, such as Ouvertures, harpsichord concertos, Brandenburg Concertos, the viola part has the same importance of the other instruments. These compositions often include fugues, requiring an equal treatment of parts, yet even when there is no fugue, viola writing is interweaving with that of the other instruments.
Further examples of this can be found in some of the Cantatas: in Cantata n.18 the orchestra has four violas, the violins being absent, and in Cantata n.199 there is a Choral where the soprano is accompanied by an obligato viola.
The most important composition featuring the viola is Brandenburg Concerto 6, with no violins at all, two solo violas accompanied by two violas da gamba, cello and bass. Very interesting as to viola writing is also the Brandenburg Concerto 3 with independent parts for three violins, three violas and three cellos and bass.
The Bach family
A biography of Johann Sebastian Bach can't ignore his family. Johann Sebastian was to become the most important member of a family that in three centuries (from about 1550 to about 1850) counted an unprecedented and unparalleled number of nearly eighty musicians of every kind, from fiddlers and town musicians to organists and court musicians.
Besides Johann Sebastian, many others were well-known musicians, born before, during and after his own generation. The first genealogy was drawn up by Johann Sebastian himself in 1735 and already counted 53 members.
Going back to ...
Bach biography
Bach was born on 21st March 1685, the same year as Haendel, seven years after Vivaldi (1678) and four years after Telemann (1681), to name only a few of the most famous composers of the baroque era.
He probably received the first rudiments of his musical education and learnt to play violin from his father. When he was ten he was already orphan and went to live with his elder brother Johann Christoph, from whom he learnt to play keyboard.
J. S. Bach's first professional position was at Weimar (1703), where he was appointed violinist, and maybe violist, to Johann Ernst, younger brother of the Duke of Weimar.
He had already gained himself a reputation as an excellent organ player and was soon offered more prestigious positions as organist at different places, until in 1717 he was offered the post of Kapellmeister at Prince Leopold's court in Cöthen.
His previous employer did not want to let him go and Bach was even sent to prison for nearly a month for his insistence in his request. Eventually he was "freed from arrest with notice of his unfavourable discharge".
Cöthen
In Cöthen the Prince Leopold had an orchestra of 17 players and loved and understood music.
Although only about 40 of Bach's manuscript are dated, it is generally accepted that Bach wrote much of his instrumental music during his service at Cöthen, where he had no chapel duties and could concentrate on instrumental composition.
During this period he wrote, among other works, the Six Brandenburg Concertos, dedicated to the Margrave of Brandenburg and also the six Cello Suites.
After a few years Prince Leopold got married and his wife had little interest in music (Bach himself in a letter defined her "eine Amusa") and also the Prince's enthusiasm declined.
In 1723, he was offered the post of Director musices at Leipzig where he remained for the rest of his life.
I like reading biographies of famous people, people who have done great things. I like to learn about their lives to know their personality, to see what is that made them great. I also understand their works better.
I found an interesting biography of Johann Sebastian Bach based on the original documents of his time, it is titled The Bach Reader. You can find curious information, read Bach's own words in letters to authorities, his comments on organs he was asked to inaugurate, the critics he once received for playing curious variationes and strange tones in a chorale and confusing the congregation...
Interesting works for the viola
Brandenburg Concertos:
...and more is coming
---
Download free sheet music Brandenburg Concerto 3
and more free viola music by Bach and others
Go from Biography of Johann Sebastian Bach to Home
Custom Search
---
---