Alessandro Rolla
and the viola
Alessandro Rolla is one of those examples of a today neglected musician who nevertheless was widely appreciated in his time as a violin and, especially, viola virtuoso, composer and teacher and whose contribution to technique, repertoire and history of music is greatly underestimated.
Still unknown to the majority of musicians and concert-goers, if remembered, it's always due to his fame as "teacher of the great Paganini", yet his role was very important in the development of violin and viola technique. Some of the technical innovations that Paganini later used even more largely, such as left-hand pizzicato, chromatic ascending and descending scales, the use of very high positions on violin and viola, octave passages, were already used extensively by Alessandro Rolla in his compositions.
Biography of Alessandro Rolla
2007 was the 250th anniversary of Alessandro Rolla's birth, since he was born in Pavia, Italy, in 1757, just one year after Mozart, 13 years before Beethoven, 25 years before Paganini. After his initial studies he moved to Milan where, from 1770 to 1778, he studied at Milan Cathedral, with the most important musician in Milan.
In 1772, at 15, he made his first public appearance as a soloist and composer performing "the first viola concerto ever heard", as reported by a contemporary writer.
In 1782 he was appointed principal viola and the leader of the Ducale Orchestra in Parma, playing violin and viola until 1802.
This was the most profitable period of Rolla's life, his most serene and creative years, in a very stimulating cultural and intellectual atmosphere; he was allowed to travel to conduct and perform as a soloist, became known also abroad and his works were published in Paris and Vienna.
In 1795 he received a visit by the 13 years old Paganini wishing to study with him and from Paganini's later letters there is evidence that they remained in contact and even played quartet together. This relationship must have had an influence on Paganini (with regard to his love for the viola), which led him to compose works of great interest for the viola.
After the death of the Duke of Parma, in 1802 Rolla was offered a position as leader and orchestra director of the La Scala Orchestra in Milan. Here the new governors, the French and later the Austrians, wanted to create the most important orchestra of Italy and therefore hired the best virtuosos of the time.
At La Scala Rolla remained until 1833. There he conducted the first Milanese performances of Mozart's Don Giovanni, Così fan tutte, Clemenza di Tito and Nozze di Figaro and Beethoven's first Symphonies.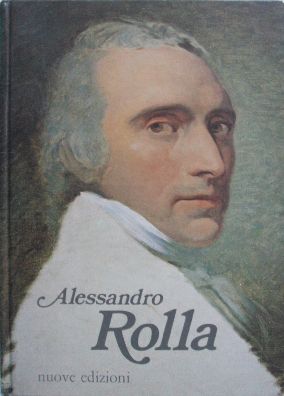 During this period he also conducted about eighteen operas of the then most loved opera composer, Gioacchino Rossini, as well as operas by Donizetti and Bellini, whom he got to know personally.
Since 1811 he was also director of a Cultural Society where musicians used to perform chamber music works by Haydn, Mozart and Beethoven, among others. In 1813 at this Cultural Society he gave private performances of Beethoven's Fourth, Fifth and Sixth Symphonies. This was something quite exceptional at that time when Italy was dominated by opera. Still in 1831 Berlioz noticed this, during his stay in Italy.
Alessandro Rolla also used to be in the aristocracy drawing rooms, meeting artists and poets, playing for them and dedicating them several compositions.
Alessandro Rolla as a teacher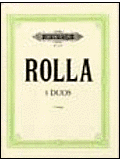 In 1808 the Conservatoire of Music in Milan was inaugurated and Alessandro Rolla was appointed professor of violin and viola.
While teaching there he composed many works for his own pupils, graded in difficulty, many of which were published by the newly established publishing house Ricordi. Several of these esercizi (exercises) are composed with progressive technical difficulties and in all keys.
It is also interesting to note that Rolla was a member of the adjudicating commission that rejected another famous composer, Giuseppe Verdi, at the entry examination in the Conservatory of the city, although he was the only one who expressed a favourable judgement about the young student.
Although involved in opera conducting in a period when in Italy opera was dominating over instrumental music, Alessandro Rolla continued to compose, maintaining the Italian instrumental tradition high. He wrote about 500 works, from didactic compositions to sonatas, quartets, symphonies, concertos for violin, not less than 13 concertos and other works for viola and orchestra. He continued to compose and play chamber music until few months before his death at 84.
His works and performances as a violin and viola player and conductor at La Scala were often reviewed and appreciated in the foreign magazines.
As an example of his fame in Italy and abroad, it's worth noting that during his lifetime his compositions were published in Paris, Vienna, Leipzig, London, and Milan.
Importance of Alessandro Rolla
Years ago a friend of mine gave me as a present a very rare book, which I found very precious: it is the tematic catalogue of Alessandro Rolla's works and his biography.
All this information I found about Rolla's life and varied musical activity were very helpful to me to appreciate his work better. I found out that he was a musician of European vision, an innovator in his own field who was also able to learn from the best of his contemporaries. Also being so deeply immersed in opera environment undoubtedly had an influence on his style as a composer. He often used themes from operas for his variations.
Rolla was important for his contribution to the diffusion of Beethoven's works in Italy and his familiarity with Beethoven and other Viennese composers is shown in his compositions.
Because of technical innovations Alessandro Rolla introduced, his production is particularly important for the development of violin and, especially, viola technique.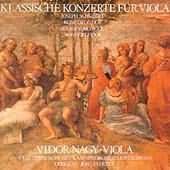 His style varies from the very melodic phrases, typically operatic in character, rich in fiorituras (musical ornamentations), to the extremely virtuoso writing, the style we are used to identify with Paganini. Ingredients of this technique are an ample use of double stops, fast passages in thirds and sixths, octaves from the first to the eighth position, very fast ascending and descending diatonic and chromatic scales, flying staccato, left-hand pizzicato. And all this was on the viola, something unheard of! A historian of his time, in a dictionary of musicians reported that Alessandro Rolla was prohibited to play in public because women could not hear him without fainting of being struck by attacks of nerves!
A Sonata by Alessandro Rolla
Some time ago I put together and performed a concert programme with Italian music for viola and piano and chose a sonata by Boccherini, one by Rolla and one by Paganini (which is actually the transcription of his Quartet n.15), so I'll use this Rolla's sonata as an example of his style.
I chose the Sonata in C major for viola and bass, in three movements: Allegro, Romance: Andante, Prestissimo.
...more about this is coming soon...
Would you like to play Rolla's music? Buy Alessandro Rolla's sheet music
---
Go from Alessandro Rolla to Home
---
---